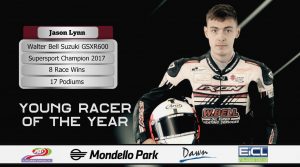 Jason Lynn wins 'Young Motorcycle Racer of the Year' Award
Peter McMahon from European Industrial Chillers Ltd. (EICL) was very pleased to congratulate Jason Lynn on winning the 'Young motorcycle racer of the year award' last Saturday 18th November.
Speaking after the announcement the clearly delighted Young Rider said, "I'm speechless. It's unbelievable to be recognised by riders of the ability of Jeremy McWilliams and Brian McCormack as well as the other judges. It's been a long journey and a lot of hard work over the past six years to get here. I plan to use the award to achieve my plan to race in the UK next season as well as as many Masters rounds as possible. I'm really looking forward to next season now and representing the Young Racer Award sponsors to the best of my ability"
Following a long wait for the contestants since the final shoot-out on November 1st, Jason Lynn was announced as the Masters Superbike Championship 'Young Motorcycle Racer of the Year' at the Masters Superbike Championship awards ceremony in County Kildare on Saturday night. Lynn follows in the footsteps of 2016 winner Robert English as he walks away with a prize package worth more than €12,000 to assist him in furthering his Motorcycle Racing career.
The biggest award in Irish Motorcycle Racing is in its second season and has been fantastic success with more than twenty riders under the age of twenty three registering to take part. The championship organisers were once again delighted to have backing for the competition from Mondello Park owner Martin Birrane, Bishopscourt owner Jim O'Brien, Dawn International and AJ Plumbing Supplies along with the addition of Peter McMahon of European Industrial Chillers Ltd..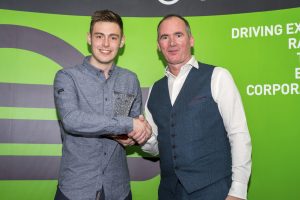 Jason Lynn and Peter McMahon a fruitful partnership
For more information see www.masterssuperbike.ie/youngrider.
Click here to add your own text