Aermec Factory Tour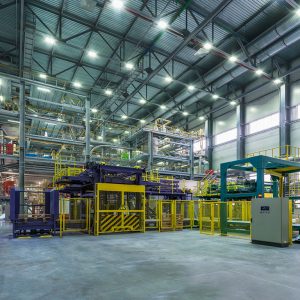 " thank you for the opportunity to visit Aermec in Verona. It really is a very impressive factory, and it is obvious that their attention to detail and good engineering makes Aermec the reliable machines that they are. I thoroughly enjoyed the trip, and getting to meet some fellow Aermec customers was very interesting!!! May I also say that the warm welcome from Michele, and the wonderful hospitality really made it special." (Fergus McNamee – Technical Engineering Manager at Holfeld Plastics Ltd)
I'd like to take this opportunity to thank everyone who attended our recent Aermec Factory Tour.
In my view, the trip was an incredible success. It was great to have the opportunity to meet some of our important clients face to face.
Our special thanks to Michele Gioachin (Export Sales Manager at Aermec) for making such an effort and showing our customers the impressive factory and detailing the process of the manufacturing following vast research and knowledge.
Gratefully Mr. Giordano Riello, owner of the Aermec Group gave us an honour to meet him on an enjoyable lunch at Aermec restaurant.
At the tour, we unveiled the R&D department and manufacturing process through to the comprehensive testing in the Eurovent approved climatic test chambers, which are the largest in Europe.
Our clients were impressed by some of the innovative products that were discussed such as Heat Recovery Units, WST for free cooling on NXW, Hybrid NSMI Chillers and so on.
We strongly believe that Aermec are leading the industry and are delighted to have been chosen for some of the most prestigious project in Ireland recently. We have also received strong interest from many clients who are interested in the innovative technology of our comprehensive solution portfolio – including our AHU range.
As the industry moves towards increasing professional services, there's no doubt that more and more engineers are looking to future-proof their projects by improving the overall workflow and efficiencies in their field of expertise – allowing them to dedicate more time to implementing services and providing advice.
Once again, I would like to thank you all who spending such an enjoyable time with the EICL team and I look forward to speaking with you all soon.
For everyone else who couldn't attend but have an interest in the Aermec products, just call us now on 01 8255155 or email: gabriella.gazoli@eicl.ie
Kind Regards,
Gabriella Gazoli
Sales and Marketing Assistant
European Industrial Chillers Ltd.
Unit 74 Dunboyne Business Park,
Dunboyne, Co Meath.
Tel: 00353 (0)1 8255155
Exclusive distributor for:
Click here to add your own text