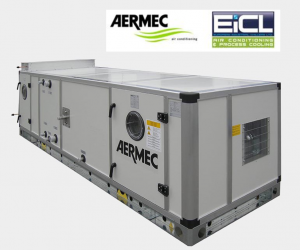 We are pleased to announce that our latest Technical presentation 'Efficient AHU selection – to reduce Chiller / AHU sizing' has been CPD approved by Engineers Ireland.
You can find the link to this CPD course on the Engineers Ireland website:
https://www.engineersireland.ie/CPD-Training/CPD-Training/Registered-Training-Provider/European-Industrial-Chillers-Ltd/Efficient-AHU-selection-to-reduce-chiller-AHU-sizi.aspx
Learn how to balance and prioritise all of the choices related to performance, efficiency, maintainability and space constraints.
Learn how energy can be saved in HVAC systems that use AHU's.
We are also delighted to announce that our Italian colleague Mr Alessandro Marini from Aermec shall be coming to Ireland from the 3rd – 6th October 2017 to offer this presentation in conjunction with Mr Peter McMahon (EICL MD) and our AHU expert Mr Patrice Sola (EICL).
We would be delighted to visit your office and provide this CPD approved presentation whilst Alessandro is here. Although the CPD's are normally presented during lunchtime, we shall be offering them at 9am, 11am, 1am and 3pm. Therefore please let me know ASAP if you would like to book a slot, as we shall have a limited number that we can provide that week.
Of course you can book another date if you wish, but this is a great opportunity to ask any questions that you may have directly to an Aermec Factory Engineer.
Please get in touch if you would like to set up a presentation.
Best Regards,
Gabriella Gazoli
Sales Assistant