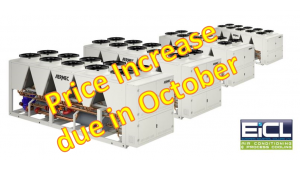 ***PRICE INCREASE FROM 1st OCTOBER***
Please note that Aermec have been forced to increase their prices from the 1st October 2017 due to the increased cost of refrigerants. They have absorbed this cost increase for the last number of years, but as the price of many refrigerants has increased 3 to 4 times this year alone, Aermec are now forced to follow suit.
***PLACE ORDERS NOW TO AVOID OCTOBER PRICE INCREASE***
We would strongly advise you to place orders before the end of September if you wish to avoid this increase.
The price increase will vary across products depending upon the refrigerant type and charge, but we anticipate 3 – 5%.